Since the Russian Orthodox Church follows the old calendar, all Russian celebrate Christmas on January 7th. The tradition of Christmas celebration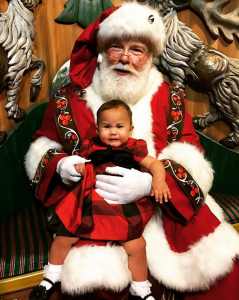 was always present, although it was secret in the period of Soviet Union. Therefore, Christmas was banned as a religious holiday in 1929 and Christmas Trees became New Year trees. Celebrating Christmas became a private matter. However, even after the fall of Soviet Union in 1991, people kept Christmas as more religious and private event. It means that Christmas celebration is a quieter and smaller holiday in Russia after the big New Year celebrations. Today, the official Christmas and New holidays in Russia last from December 31st to January 10th.
Since the New Year and Christmas holidays almost became one long holiday, the gifts are usually handed on one occasion. The Santa, also known as 'Ded Moroz' or Дед Мороз in Russian brings gifts to the children. Families also exchange gifts and cards, but the whole process of giving is slightly less commercial than in Western Cultures. The holidays are about the time spent together, more than expensive gifts.
People often fast on Christmas Eve, until the first star has appeared in the sky. Some, on the other hand, don't eat any meat or fish during the Christmas Eve dinner, which is a simile to "The Holy Supper." The whole family joins around the table which corresponds to the Christ´s coming as a child. The table is set with a white cloth and hay and a tall white candle in the center of the table. These are symbols of Christ´s clothes, his humble background and his final impression as the light of the world.
Russians are, usually, eating traditional Christmas meals like sochivo, or kutia, which is porridge made from wheat or rice and served with honey, poppy seeds, fruit, usually berries and raisins, chopped walnuts or sometimes even fruit jellies! Most often, this meal is eaten from one bowl which is the symbol of unity.
However, Christmas Eve recipes include other traditional food like beetroot soup called borsch, or vegan potluck also known as solyanka which are served with vegetable pies and other special dishes. The meal often symbolically has twelve different dishes, representing the twelve disciples of Jesus. At the end of the meal, the host serves Vzvar, which is a drink made from dried fruit and honey boiled in water.
On the Christmas Day, there are even more traditional dishes available. The main meal is rather a feast with roast pork and goose, Pirog and Pelmeni. When it comes to desserts, there are usually different fruit pies, as well as gingerbread and honey bread cookies. They are served through the whole day with both fresh and dried fruit and nuts. There are also traditional Russian Christmas cookies made in the shape of a sheep, goat or deer which are called Kozulya.